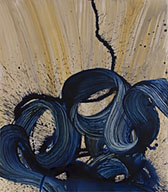 Particles #5
acrylic and pencil on mylar, 48" x 42", 2016
Jonathan Feldschuh
Fingesten Gallery at Pace University
9 Spruce Street • New York, NY 10038 (212) 346-1397 Ext 11397

HOURS: Mon: 12:30-4:30 pm • Tue: 12:00-5:00 pm • Thu: 12:30-4:30 pm
Or by appointment: dhill@pace.edu


Located in Lower Manhattan just south of the Brooklyn Bridge + 4 5 6 to Brooklyn Bridge / City Hall + R to City Hall / Broadway + A C E / J / 2 3 to Broadway Nassau / Fulton St.

Particles #1
acrylic and pencil on mylar, 54" x 42", 2016
Jonathan Feldschuh
Visual Inquiries: Artists Inspired by Science is an exhibition exploring the work of eleven
artists whose work maintains a strong, engaging visual presence while being firmly rooted
in the conceptual foundation of the sciences.

Suzanne Anker, Julia Buntaine, Angie Drakopoulos, Jonathan Feldschuh,
Carter Hodgkin, Eve Andrée Laramée, Deanna Lee, Maureen McQuillan,
Paula Overbay, Taney Roniger, Steven Salzman

Curated by Daniel Hill.